April 05, 2019
Commissioning solar installation at Yei Branch BSS
By Chance Baniko:
A high level team led by the Deputy Governor Hon. Odera Ochan and the acting director general of administration and Finance of the bank of south Sudan arrived Yei branch to commission solar power for the provision of lights at the branch during night hours.
In a meeting at the branch, Administration and Finance acting Director General Angamomo Ajigi appreciated the role and the coordination made between the branch and the headquarters for the realization and completion of the project.
Angamomo commended the leadership at the branch level represented by Andrew Wilson for the good idea to come up with the project to ensure the security of the bank particularly during night hours.
On the other hand the Yei River State minister of Finance Lona Sadia commended the bank for the good use of its resources, and the accountability displayed by the tangible erection of the panels to power the bank at night.
She praised the management for the job well done, and said "own this project as yours, and take good care of it." She encouraged the bank to open other institutions that use solar panels and perhaps extend the same to the state ministry of finance.
"The light will provide security to all of us, and therefore we have to take good care of it." She reminded the deputy governor to convey to the Governor, the promise to support the state government.
The deputy Governor then addressed the occasion and the said "when the Governor asked me to come and inaugurate this project was pleased and accepted it." "Though this project may look small, it is not, so long as it gives services to the people." "This is an essential project, therefore take good care of it. This branch is meant to serve to the people of the state and the entire nation. This does not mean we forget the state government, we pay attention to state government in case they have financial issues."
The deputy governor said, that solar system is environmentally friendly as opposed to generators. "We are planning to expand it to meet the needs of our branches."
The deputy governor said the management of the bank will soon deploy a small unit of supervision department at Yei branch to monitor commercial banks operation in the area.
He expressed his gratitude to Yei branch management for the cordial reception and gave the word of the Governor Dier Tong to release a one month salaries to staff.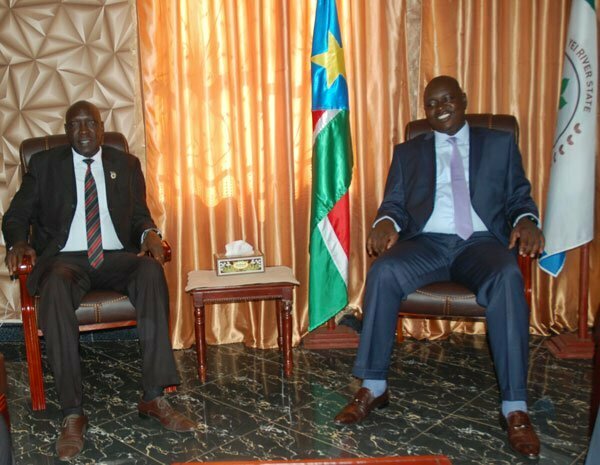 It is worth mentioning that 30 solar panels with one big inverter and 20 batteries have been installed so far. It is meant to produce 1,600 watts of power. The installation will at least last for five years.
On the other hand the deputy governor and the accompanying team paid a cordial visit to Yei River State government and the meeting centered on the activities of the bank in the state.
The team then inspected the premises of the bank at the outskirts of the town